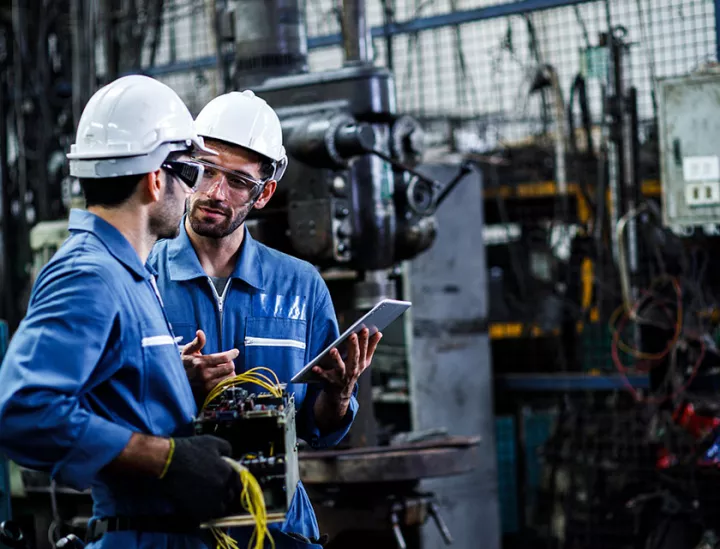 Industry and Manufacturing
Professional solutions for your professional needs
Because professionals like you trust NORMA quality, you'll find NORMA connection technology in both production systems and the goods they produce. Our solutions offer the best of both worlds, supporting reliable manufacturing processes while ensuring product performance.
Why NORMA Group is the preferred partner
Subindustries
See which subindustries we serve
Our products are trusted in sensitive industries such as:
Machine building:

Because we meet the strictest quality requirements of OEMs worldwide, you can depend upon the reliability of our clamps and connectors.
Chemical industry

:

Our products connect lines for the transport of granulate or chemical media for appropriate processing and are also used in the chemical plants and devices themselves.
White goods & Household appliances

:

NORMA connectors are used wherever liquids need to be transported or components need to be securely connected and fastened, such as in refrigerators, washing machines and dryers.
Benefits
Explore the advantages of our fixing and joining solutions
NORMA Group offers you:
Smooth processes instead of downtime:

As a manufacturing company, we know only too well that production downtimes are very expensive. To eliminate delays, we provide standardized connection technology that works consistently and reliably.
We set standards that everyone works by today

:

Our quality controls elevate the standards, guaranteeing you always receive the most robust connection solutions.
As reliable partnership

:

It is important for us to work with you to optimize our connection technology. Because we constantly seek superior performance, we focus on you and your requirements.
Applications
High quality standardized branded products for a variety of applications
Specific applications include:
Energy and supply lines


 

Chemical and food processing plants